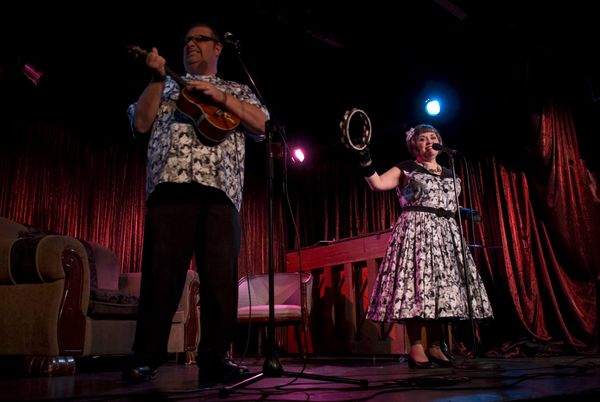 "

it's something different, for sure! Thanks Jaye & Joe, you are completely mad. We like that."
Short bio

As heard on Dr. Demento!
Best described as Archie and Edith Bunker with a ukulele and glockenspiel, Pony Death Ride can be seen performing paired down versions of their songs at burlesque variety shows and comedy clubs with just a ukulele and a glockenspiel, and as a full band with fancy instruments! This married, half-Canadian musical comedy duo has performed all over the country and released two full albums, and has appeared on several compilations. Read more...

They have appeared multiple times in Los Angeles at two of the city's longest running burlesque variety shows Striptease Menagerie and Monday Night Tease, and at the San Francisco Bay Area's world famous Hubba Hubba Review, in addition to performing at The Tomorrow! Show with Ron Lynch and El Cid in Los Angeles as part of the Musical Comedy Circus, and The Upright Citizen's Brigade in Hollywood, Ca.  Summer 2018 found the duo Mc'ing and performing at tiki Oasis!

 In addition, they've guest hosted Laugh Attack at the American Comedy Co., and performed with Fred Armisen,  comedian Neil Hamburger, Dave Foley, Mojo Nixon,  Har Mar Superstar,and Robert Lopez (El Vez). In October of 2015 the duo hosted and performed at The Arizona Burlesque Fest in Tucson, Az.

 
0:00/3:39

0:00/2:50

0:00/2:40
Here's a live video of our act